Iris Van Herpen, the experimental face of fashion in a manner of speaking, courageously combines her designs with imagination. In the meanwhile, she takes advantage of the gains of our century. Introducing 3D print concept to the runways, Herpen's collections are undoubtedly one step ahead of fashion. She will display a selection of unforgettable 45 pieces from her 15 former collections in her "Iris Van Herpen: Transforming Fashion" titled new exhibition in High Museum of Art Atlanta. We talked with Iris about the story behind her works, which combine fashion and technology on the axis of philosophical commodities.
You're transforming your research into the fashion. How does this process evolve from mind to runway?
For my handmade garments, I mostly start with doing a lot of experiments with various materials. Sometimes I make sketches in between the experiments, but the final design always occurs on the doll and not on paper. With the very intricate pieces I often coat the mannequin completely with paper to draw the design three dimensionally to find the right proportions, which is impossible on a flat paper. The 3D printed garments are drawn in the computer. And when I collaborate with an artist or architect, the creative process is completely unpredictable, it's like walking into a labyrinth; looking for the way out, but no idea how. Mistakes and dead ends are very needed in the process, and they lead to new ideas. I am a fan of puzzles and trouble solving in the process of making.
"Couture means my laboratory of fashion, it's the place where beauty, the past, the future, craftsmanship and technology dance together."
Metallic grating and embellished plastic features heavily in your Spring/Summer 2016 collection. How do you decide upon such materials?
Choosing materials is a purely intuitive process. I do that based on my feeling. I just use the materials that feel best for that moment and that visualise strongest the concept that I have in mind. In the end a collection tells a story, materials are the individual words for that story I am trying to visualise.
You interpret the future in regards to your designs. Do you ever look to the past?
In my work there is a huge amount of handwork, in the traditional sense; stitching with a hand and a needle. A lot of dresses that might appear futuristic or even technological are actually made entirely by hand. It would be insane to not look at the past as there is so much knowledge all layered upon each other. My aesthetics today come from merging the past and the future together.
I very often mix traditional craft with new techniques. Both are important to me in order to challenge myself in my design and in my process of making. Not only the end result matters to me, the path of getting to my end result is equally important.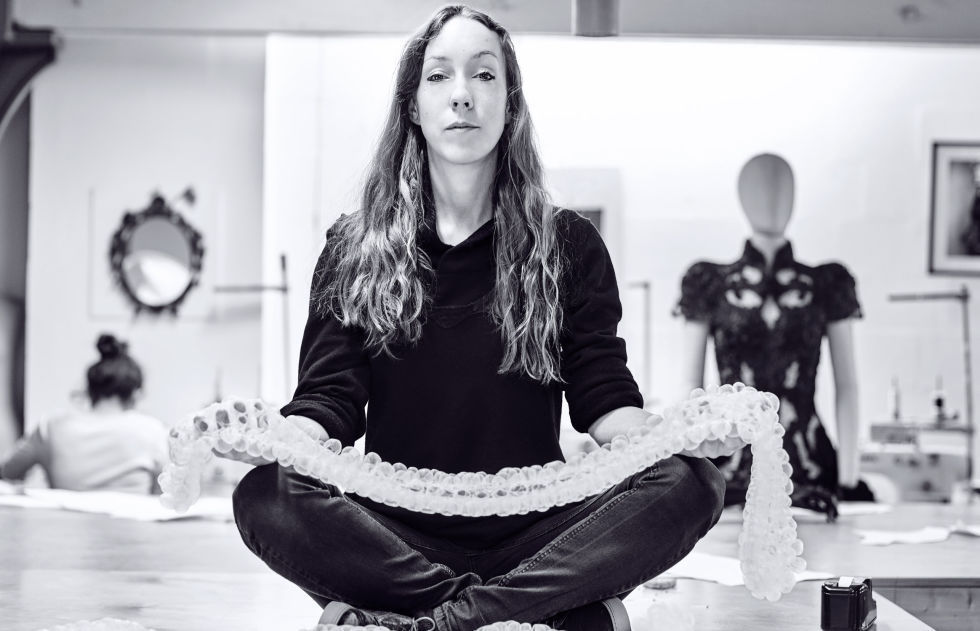 One could say you are re-interpreting the future of couture. What does couture mean to you?
Couture means my laboratory of fashion; it's the place where beauty, the past, the future, craftsmanship and technology dance together. Couture does not just mean 'tradition' to me, it's the place where art and fashion join.
"It would be insane to not look at the past as there is so much knowledge all layered upon each other."
Did your time spent at Alexander McQueen shape your elevated vision?
Working there mostly inspired me for the beautiful materials I worked with and that period taught me the silence you need to create within yourself to be able to make an extremely time consuming dress by hand. Today designing couture for me is not just about designing a dress, the process of making is extremely important and inspiring. The process of making actually is most interesting to me, when something is finished it gives joy but there is also some emptiness. It's done then.
People frequently use words such as " futuristic, sculptural, technology" to describe your collections. How would you describe it?
If I am completely honest with you; words don't really matter to me. It's my visual language I want people to get seduced and mesmerized by.
For "Iris van Herpen: Transforming Fashion," you shall present three dresses made from the ribs of children's umbrellas from 'Chemical Crows' January 2008. How did you decide upon this story of creation and material? Such innocent objects for a piece that is mature and eclectic in design one might add…
The Chemical Crows collection is inspired by alchemy; the transformation from an ordinary material into gold. My housemate at the time was a collector of rubbish, and between his rubbish piles he had this collection of broken umbrellas. I asked him if I could take a few to do a construction experiment. I did some tests with the baleens of those umbrellas and then I knew I needed children's umbrellas that are gold from colour. That was a very challenging search :), but I found them.
That was the moment I started deconstructing 700 children's umbrellas by hand (my boyfriend was helping me at the time), to then have 5.600 loose baleens to construct with. My biggest puzzle at the time.
Iris van Herpen, runway AH2012-13Iris van Herpen, runway AH2012-13Iris van Herpen, runway AH2012-13
The exhibition includes the world's first example of 3-D printed fashion from 'Crystallization' July 2010. How do you view 3-D printing in modern-day fashion? What first attracted you to 3D printing?
The seduction for 3D printing for me came from the insane amount of detail I can create with it, in combination with the unlimited three-dimensionally. It's really revolutionary in how different it is.
It's so completely different than working with other techniques. Imagine being a designer; we always start from a flat surface: the fabric, leather, plastic anything. We then make it '3D' with a lot of seams to fit around a body. If it becomes complex in a three-dimensional manner, the construction becomes more and more complex, more and more seams and construction is needed to make that flat surface in the shapes you have in mind. 3D printing is the opposite.
There is no flat surface you begin with. You can go as complex as you wish, and as three-dimensional as you like, without making any seam or complex under constructions.
It's a completely different world of design, a different mind set for your design process.
I remember working on that very first 3D printed piece (at that time I was so obsessed with handwork that I even did not use the sewing machine) and having the complete freedom in three-dimensionality was actually frightening.
Suddenly all your usual restrictions (and puzzle/construction solving) are gone, it's like jumping in a black lake. Now I feel more confident in the process, but at the time the complete freedom was actually frightening, and that's what I liked, it seduced me with the challenges and new possibilities it gave me.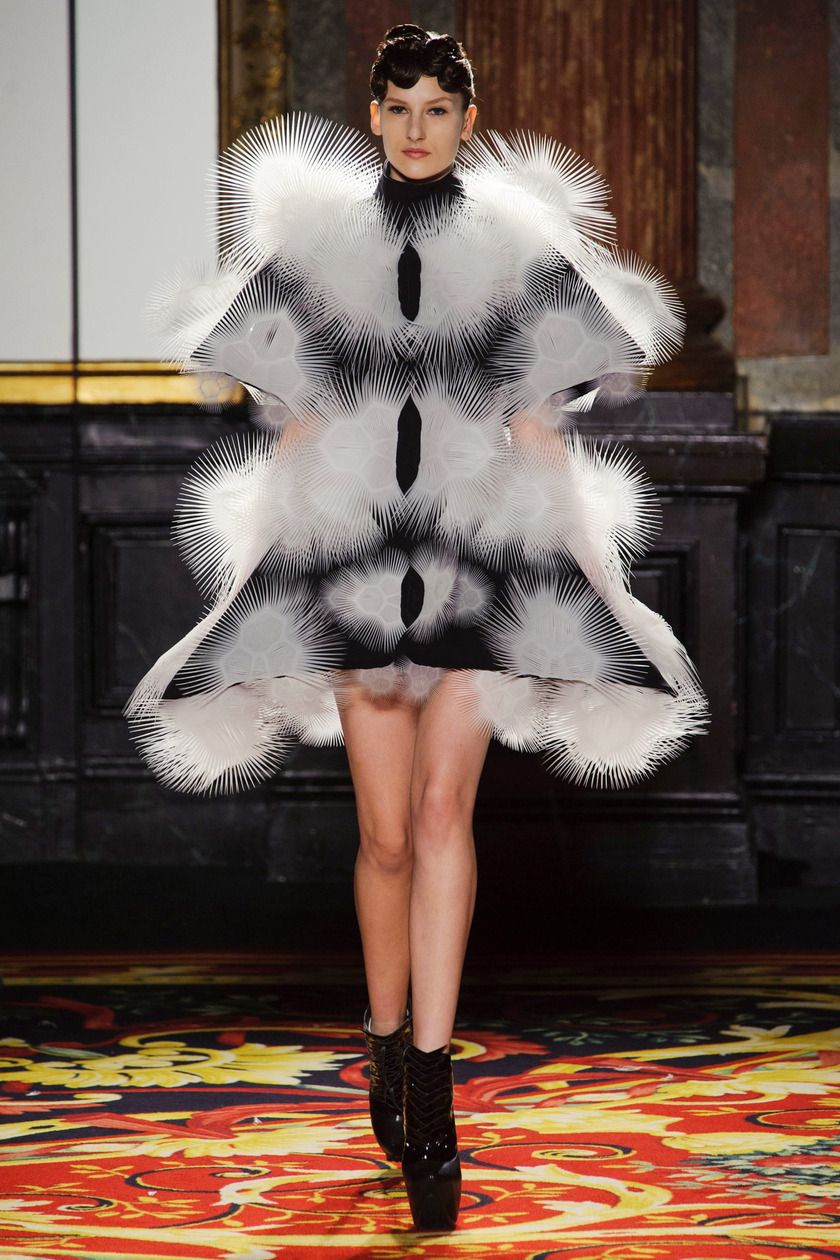 Given such vision in artistic expression, craftsmanship and creativity, can we ask what your childhood was like?
I grew up in a small village; my parents were very open-minded (hippies) and supporting me in my creativity. From a very young age I was doing ballet, I was playing the violin and had drawing classes.
One could almost say that perhaps there is a psychological element in your designs?
In my work I want to expose the importance of collaboration and fraternization. Working with artists from other disciplines is important for me; people within science, art, dance and architecture inspire me to think differently and to stay away from working in circles. I want to go deeper into the experiential boundaries of these versatile relationships that can be needed to find real inspiration, with the minimum of restriction. The borders of traditional disciplines will disappear and new (wider) specialisms will arise.
Finally how do you breath and refresh your mind for each new collection?
I don't really, I am a workaholic. Spending time in my atelier or traveling to other collaborators around the world to do new experiments is what keeps me going.