Besides those "radiant" people we meet during fashion dinners at eloborate tables with several forks and knives on each side, our breathing falls into place when we lift our head and meet someone like Güneş Güner Işık. Read on, your fashion world needs some balance as well.
Your grandfather's tailoring days and your father's ready-to-wear days must have influenced you about fashion. Do you have any stories related to this sector from your childhood?
My grandfather always had his fedora hat and cane. He was a model for me as someone who didn't look like anybody else with a lot of taste. Unfortunately I was nourished by him only until I was 10. When I was six or five years old, I used to beg my father to take me to work on Saturday so I could see him. My grandfather had an extremely distinct eye; he was able to measure details on models by centimeters and millimeters. He didn't make any mistakes either.
My father's eyes were just as accurate. The measuring tape was my most precious toy just to try and get caught up with their talents. In primary school I was obsessed with measuring things. I was a weird seven-year-old child who measured every jacket pocket or collar she saw. And observing them two, I was deeply occupied with dressing up like them. Since then, my blouses and strapless loafer shoes have been the musts of my closet.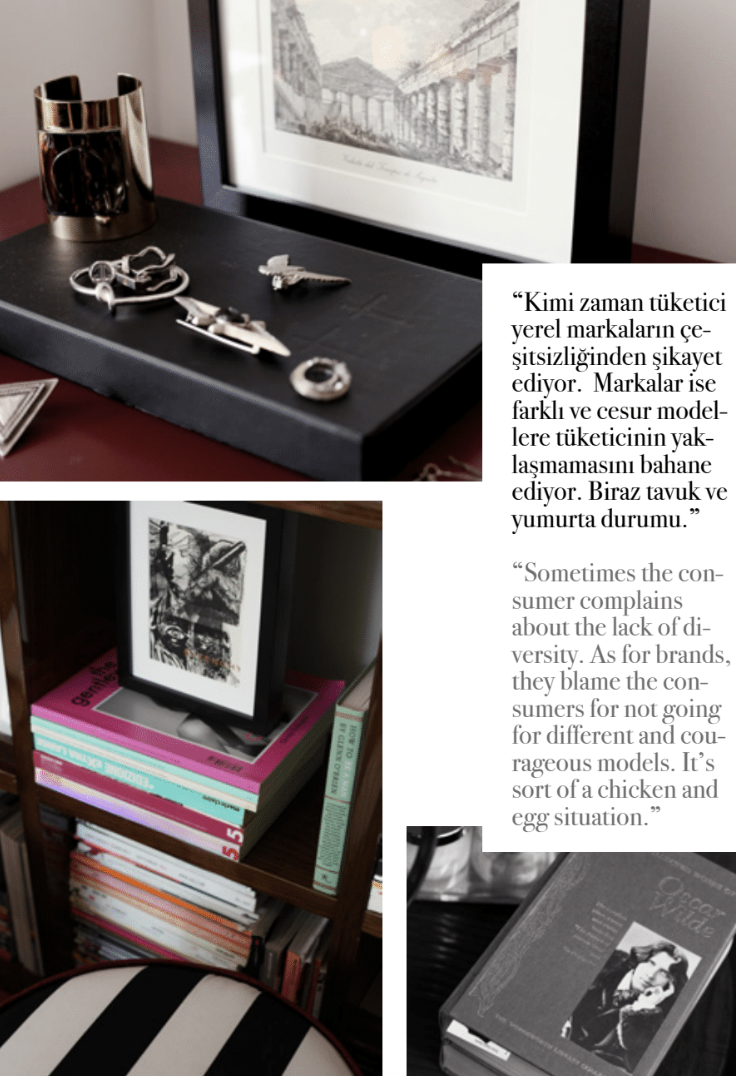 There are several concerns on the progress of fashion in Turkey. What are your opinions? What do we need to work on the most?
Considering what Turkey is going through and its general conditions, I think we can only talk about a few cities that are involved with fashion. It's not really possible to talk about 'fashion' in other cities when they struggle for income.
In bigger cities, fashion is a bit modern and very traditional. We don't come across those with personal styles or a different approach above a certain age. This situation leads fashion brands to develop commercially and with no risk. We can't go beyond taking up popular things of the world and re-applying them.
Sometimes the consumer complains about the lack of diversity. As for brands, they blame the consumers for not going for different and courageous models. It's sort of a chicken and egg situation. Due to this, the streets are filled with similar clothing and attitudes.
Istanbul is a whole other scenario. Each area has a different understanding of fashion. There is a more sportive and colorful group in Suadiye. Şişhane and Karaköy have a mix of modern and bohemian styles.
Happily, those born in the 90's and after 2000 have a more creative and free approach to fashion. For them it's important to look like themselves. This is a crowd who is against 'Copy/Paste.' This crowd is also interested in local designers and brands. They like to research, discover and match in their own ways.
On the other hand, there are many brands that get attention in the fashion world. There are many brands that are successful making a name in the global market such as Rumisu, Misella and Tohum. Fashion is positively progressing in Turkey with baby steps…
Fashion director, writer, editor, designer… You have many titles. Which one satisfies you the most?
. The satisfaction I get from schools and academies is indescribable. People who come from different classes into my life and stay are all gifts. I always leave from each class with satisfaction every time without thinking about the past or the future. My designer identity, my editor identity, in short, everything that I've learned meshes perfectly with people who are interested in the field of fashion.
That is followed by the ability to design, which is an incredible feeling. My enthusiasm and curiosity is endless. I like design products that aren't visually surprising but are fun-to-use and unexpected. I like being after creating clothes that don't speak louder than the people themselves, which make them feel good. When these models are in demand and consumed, when I see people using them with joy, I feel contentment. To summarize it all I guess I feel more fulfilled the more I come in useful.
Kimi zaman tüketici yerel markaların çeşitsizliğinden şikayet ediyor. Markalar ise farklı ve cesur modellere tüketicinin yaklaşmamasını bahane ediyor. Biraz tavuk ve yumurta durumu.
Sometimes the consumer complains about the lack of diversity. As for brands, they blame the consumers for not going for different and courageous models. It's sort of a chicken and egg situation.
How does one train their eye in regards to men's clothing?
My role models are my grandfather and my father. My brother who is 18 months younger than me. During primary school, most of my friends were guys and I was in a masculine environment, I still am. I love to spend time with my son and his friends. Even men at different ages and styles around me help me develop an eye for it. Their needs, behaviors and consumption types are natural parts of my life.
I've been following traditional men's expos for twenty years. Attending men's fashion weeks, Milano Unica, Pitti Uomo each season for the last 20 years is a habit of mine. These events helped me gain different perspectives.
For 6 years, I've attended them as a designer of a brand's collections, presentation arenas and events. Then I've attended as a fashion director to evaluate many different brands' collections, with my media identity to inform about designers and the industry. Fashion weeks, different collections, presentations, reactions of people around you are very educative.
My curiosity extends each day, for every step you want to take for men's clothing, you need to strengthen your knowledge of the past. I can't get enough of reading about the history of men's clothing beginning from the 1800's.
You consulted/consult various clothing brands. Along with that, you also have your own brand. With a very busy schedule, what do you do to stay creative?
I am a designer who questions balances of cause-effect and cost-value. That's why watching what and how people in the street consume, following market research and guessing the trends are my personal interests. I always read market researches and trend analysis. I am greatly nourished by the visions and research of Martin Lindstorm and Jody Turner.
I love to watch people in the street and design a product that can provide for their needs, surprise them and make them happy as they use it. To deduct from general to local or to the individual is easier for me. I travel to the target markets of the brands I work for. I benefit creatively from spending time in that country or with that city's locals. Lastly, I follow a brand's target consumer in both stores and alternative environments. Sometimes I get together with them to talk about their clothing habits, things they search for and can't find.
The designer should be able to get out of their taste zone and empathize with different profiles in balance. The ideal creativity triangle in fashion retail for me is consumer behavior tendencies, suggestions of a brand or a designer, and data from the cash register.
Let's talk a little bit about Royal Gang… You are picky about your brand's visibility. It's easier to find Royal Gang abroad than locally. What are your criteria on where you want to see your designs?
I've made many valuable friends in the international fashion industry in 20 years. Royal Gang was born with their motivation and support. "Royal" represents my passion for blue, and "Gang" is a representation of my friends that I've made in 20 years.
I wanted to create a product group that was 'Travel Friendly'. A product group that is essential for any cabin luggage which feels great when it touches the skin and cared for from thread to stitch. T-shirts, blouses and pants from valuable natural fibers of the thinnest, smoothest and lightest tissues of cotton, wool, linen, and cashmere.
Mora then visually, these products have an attraction due to tissue and form. A product group that the more you wear it, the more you get attached and be surprised by its durability. This is the reason why we are so picky about the environments we exhibit and sell.
You attend many fashion shows abroad. Can you share the excitement there and the the progress of these shows? For example how is a day of Pitti Uomo from your eyes?
Fashion shows are a time of great tempo… A marathon from 8.30 in the morning to one or two at night. Usually time is not enough to do and see everything. And if you are someone like me who is still emotional when seeing the care and work that gets put into a brand, there is no boredom or complaint.
Pitti Uomo begins with a quick tour I take by myself. I personally detect things to see and to tell. Then I meet the designers of the brands I work for and have an edited tour. Towards the evening, I visit the brands that I want to write about, I go to presentations if needed. In the evening, I attend to a show or an event and I have long dinners with my permanent "Fiorentin Gang."
Have your advices changed in time at your presentations? If you compare it to 5 years ago, which subjects do you talk about more?
For years, we've been talking about functional design the most. Now there are two main subjects. Different design approaches for sustainable fashion and design for online retail. If we are talking about style and image management; we used to transcribe seasonal trends for a person's body. Nowadays we talk about practical wardrobe scenarios that fit someone's body and life.
Since we have you here… How do you see the future of printed magazines? Who will be able to survive in this business which is becoming rapidly nostalgic?
I grew up as a serious magazine fan. I still keep the British and French editions from the 80's and 90's. Magazine is the most attractive way for me to learn as I read with joy. The moment magazines began to have a commercial concern, I think they lost dinosaurs like me.
The magazines that look down to its reader, has a hard time to find content and is lazy is living its last days. If there are so many popular and repetitive subjects and hundreds of online alternatives, why would anyone pay to buy the printed version?
I believe independent magazines who are different in their contents, have focus fields and arouse curiosity will survive. I like to read Jocks and Nerds, Hole and Corner, Flow, Specific, Sokrates, Based Istanbul and Feed and suggest them to my friends.