Set in a cozy New York loft on a cold Monday, Victoria Rizvi, Senior Vice President of New Product Ventures, Collaborations and Special Projects at Calvin Klein, Jacob Jordan, Chief Global Merchant, Head of Product Strategy of New Product Ventures at Calvin Klein and Heron Preston, designer, creative director, content creator and artist met with us to answer some fiery questions about the upcoming Heron Preston for Calvin Klein: Season 2 Collection. 
This collection is all about celebrating Calvin Klein and the DNA of the brand. Comfort, evolution, new materials, details, colors, and styles are the key elements of the designs. This season we are layering and preparing for those colder months with the introduction of warmer materials, such as recycled Alpaca knit, and functional, warm products like the Waffle thermal and the Puffer. Dug deep from the archives, expect to find hints of heritage of Calvin Klein mixed with the zeitgeist of New York youth. The thin elastic bra and the pale yellow balconette is all we need to feel comfort, and authenticity. Season Two, another gender-neutral collection by Heron Preston, will give you the freedom to swap hoodies with ease with your boyfriend, brother or even your ex.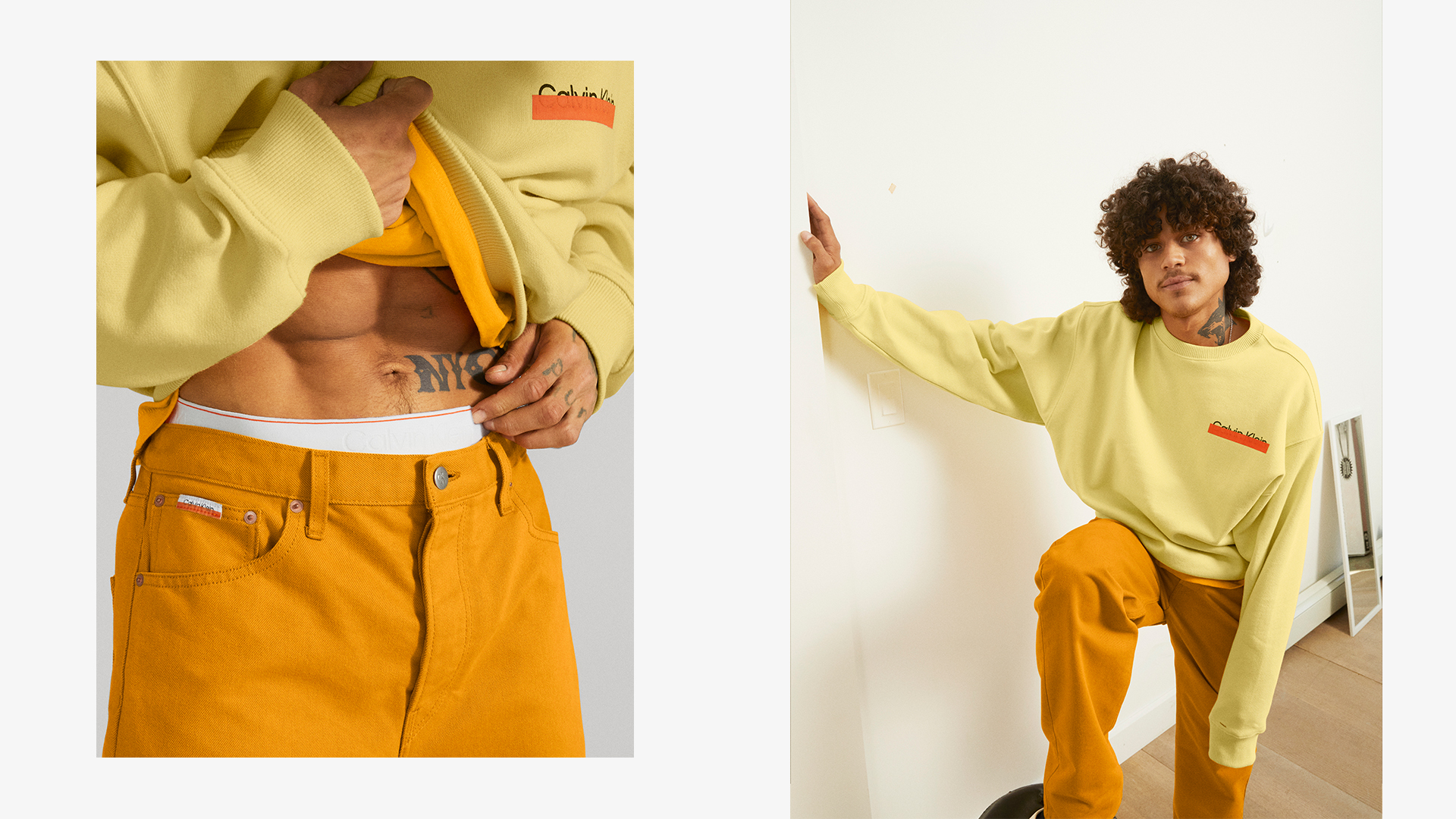 What are you most excited about wearing this season?
Heron Preston: This season, I think it's all of the new updates that really helped battle against the elements of the warmer pieces. The puffer is one of the first pieces I think about because (laughs) today is a really cold day so I just can't wait to slip that puffer on. Umm, and also the waffle thermals, I have loved waffle thermals since I was a little kid, growing up in California, going to ski up in Tahoe, I'd always wear the waffle thermals like a base layer on top of my other pieces. So that's why I still like waffle thermals today. The Puffer and The Waffle Thermal are the pieces I really look forward to this season.
Jacob Jordan: Denim. Hands down denim. Denim is such a big part of our brand, our DNA. And I know what you and the team went through and how much time you spent focusing on that. Fits, fits, fits and fits. I'm a sucker for the jeans, I think it's a great move on from what you guys started last spring and the sunflower is just GREAT.
What was the starting point/concept for this Season?
Heron Preston: Well, you know I think the concept has kind of remained the same about nailing those essential pieces, no more no less than what we truly need as clothes, and fans of Calvin Klein. But I think it was really kind of updating some of those pieces, ensuring the fits were better, better and better, as Jacob mentioned we just did a million fittings. And then adding new materials to respond to the change in weather, especially in New York, Calvin Klein is a brand from New York so we really wanted to make this feel as New York as possible. Also obsessing over the details, new colors, so it was really about evolving and really kind of feeling like this was gonna be a whole new season. But still respecting and playing with season one. I think it was just about having fun again with the story of what could become an essential story for this season. You know we did the whole exercise about outerwear, about jackets. You know I had so many jackets I had in mind but then it came down just to the Puffer. So it was really about continuing to define "what does it mean to be an essential within clothing?" So these were the pieces you just saw in the presentation that we felt were truly essential, no more and no less.
Can you talk a bit about the campaign?
Heron Preston: Season one was about personal relationships, rising stars of culture, people known for breaking boundaries, my friends…So we kind of wanted to continue that story for season two. So I reached out to one of my closest friends, an award-winning director, Ricky Syass. We broke off in San Francisco, moved to New York at the same time and just launched our careers here. So when I thought of who I want to work with, Ricky popped up in my head as number one. We brought Lil Nas back, we have some special faces as well as new faces, Savion Glover, I think I was really excited about including him in this campaign. It's kind of looking at how we kind of told the story for season one. And keeping that same feeling for season two, very strip-back, clean and minimal attitude. I really wanted to capture that New York attitude as well, and the edge that is just so part of youth culture. I think that really reflects the attitude of myself and Ricky. Today, connecting the culture being relevant and relatable and revolutionary so that was kind of what we were thinking of approaching this campaign. I'm really happy with how it came out.
Jacob Jordan: It almost felt like it was meant to be. Because I chatted with Ricky a little bit before we had even talked about the campaign, just about touching up, oh like someday we should do something together. And when Heron mentioned that he wanted to work with him, we just had to. I think Heron did such a great job working with the Calvin Klein team, bringing Ricky in, they tapped into something in terms of people and vibe, I feel like it is just so Calvin. I'm really excited with how it came out.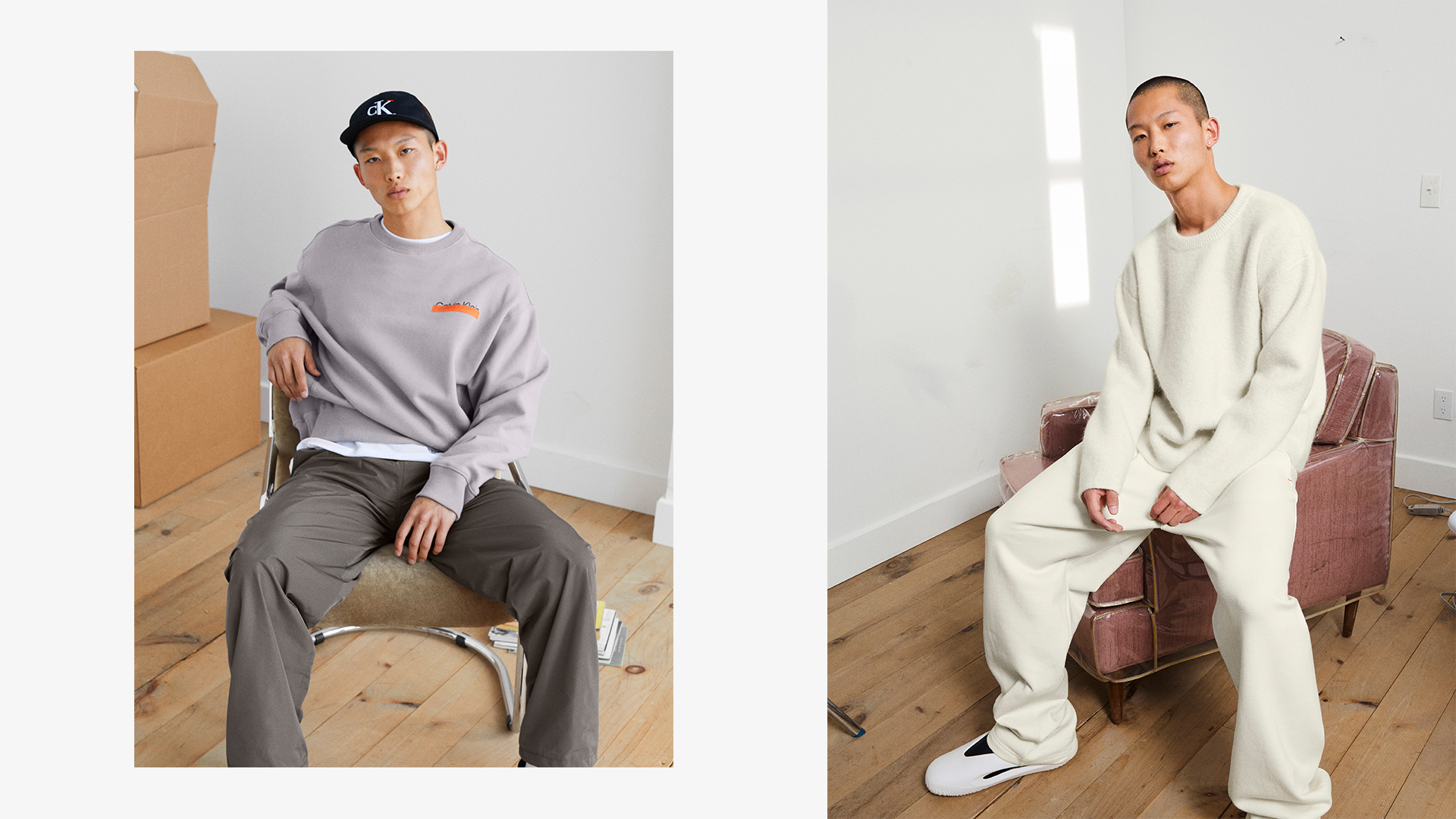 Sustainability played such a big role in the last season. Is this the case for the second season too?
Heron Preston: Yeah you know that's always been a pillar of my design decisions, so incorporating that into Season 1 and then carrying it into Season 2. How do we evolve the story? Again by looking at the materials. Denim is actually made out of recycled plastic bottles, and it is water repellant. And just the texture and the quality, the weight just feels so good. So I'm really excited about this denim story. Then, the organic cotton continued to push that. The recycled knit that we have from Alpaca knit. It just continued to push the investigation of these materials and how to incorporate them into these collections. There's no finish line with this, it started in Season 1 and continued into Season 2, by challenging the teams on how we could continue to be as least environmentally destructive as possible.
Jacob Jordan: It's such a good process because Heron is always asking the question first to designers, then to the production team, "what could we use to make this more sustainable?", so it's always a great process to go through with Heron. Obviously it is very connected to what we as a company are trying to do, too. But working with you (looking at Heron) that is so much of your DNA, so much of your process too.
If you had to summarize this collection in 3 words, what would they be?
Heron Preston: Comfortable, sustainable and timeless.
In terms of the process of design and production, how has the Pandemic affected you?
Jacob Jordan: In the first season we worked together, there were still factories that were shut down, I was in California, Heron was in New York, we literally had to reinvent a new way of working. We started from day one and we weren't able to do things that we were all used to doing. I think with the changes with the Pandemic and us constantly having to react and adapt to that, it actually forced a new way of working. I think it's just an evolution of the way of working and a constant adaptation.
Heron Preston: For me it was about focus and focus and focus. We were designing at a distance and it was just different from coming together. So we really had to focus and define what the hell we are really doing here. One of the biggest hurdles was to define "What is an essential? What should the pieces even be? What styles fall into the essentials category? What fits into Calvin Klein and what they established as a brand?". And then also just reflecting on how we were in touch with our own wardrobes, with our closets. What we were wearing and what we weren't wearing. Really kind of paying attention to that. It really helped with our exercise of defining what is essential clothing, it helped because we weren't really wearing that much stuff (laughs), so it was almost like a cheat code just looking at the street, "oh that's what we are wearing everyday, THAT should be in the collection". Season two continues to push the definition of what is essential through the lens of Calvin Klein.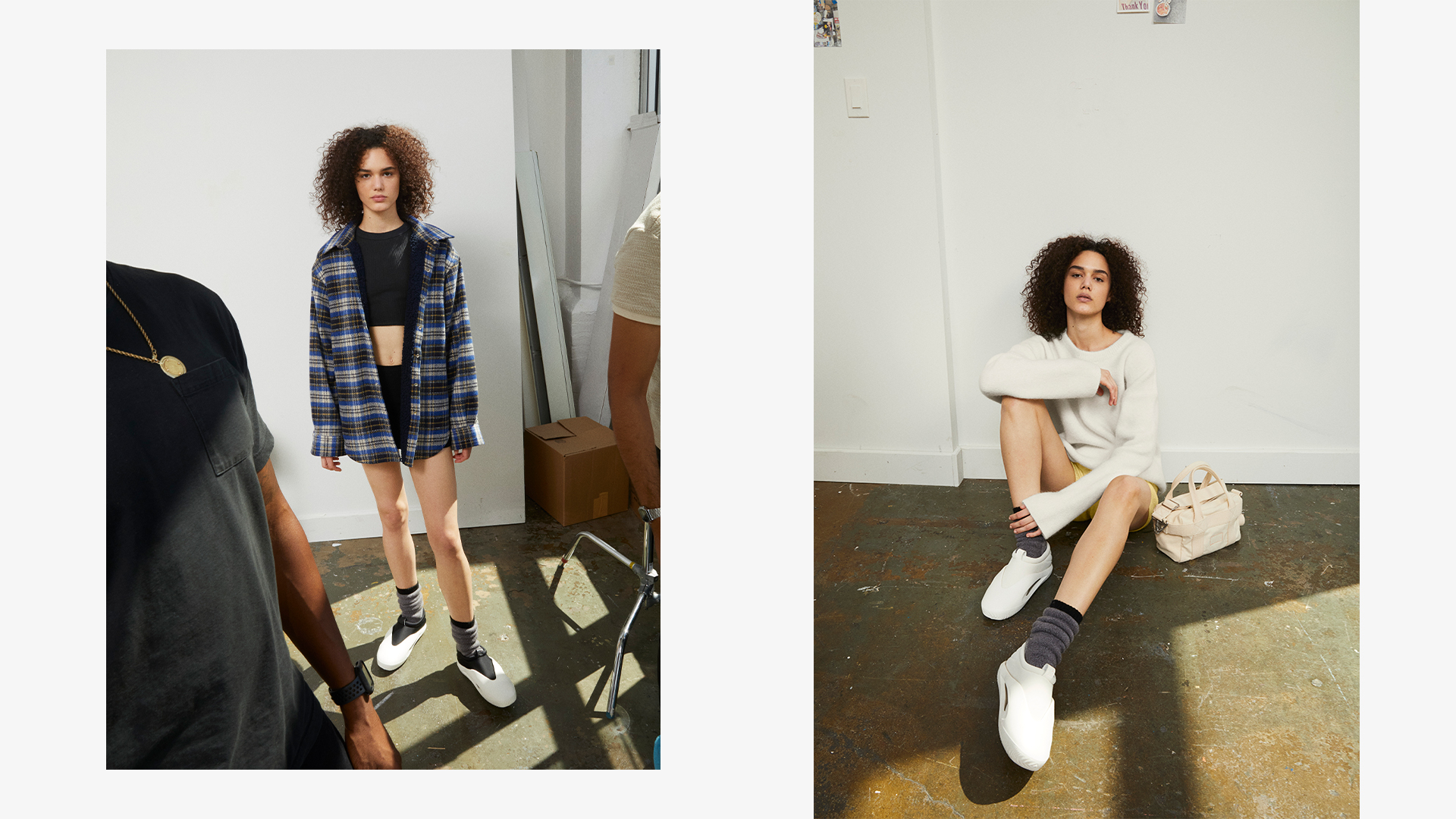 The collection is gender-neutral, could you elaborate on this approach a bit?
Heron Preston: I think it came from personal experience. My gf wears my hoodies, I can wear her hoodies. All of a sudden we were like, "do we need to design so many hoodies?" when we realized that we were sharing a lot of these pieces, and pieces will look good across all body shapes and types. No more no less than what we need. Puffers for example, we can wear the same puffer we don't need to have different styles and shapes. One great fit for everyone. It's coming from a very sustainable point of view too. It's about decluttering the world. The team really nailed what these pieces could be.