Taking the celebration of special moments in life as its starting point, Baume & Mercier highlights one more time the fact that framing the flow of time does not only mean the minutes or the hours.
Baume & Mercier müzesinde bulunan 1948 yılından kalma vintage tek düğmeli kronograftan esinlenilerek hazırlanan Capeland Shelby Cobra koleksiyonu; retro aksanları, klasik çizgileri, kronograf ve takometre işlevleri, parlak ve saten kenarlı kasası ve kollarına özenle işlenmiş Cobra logosuyla öne çıkıyor.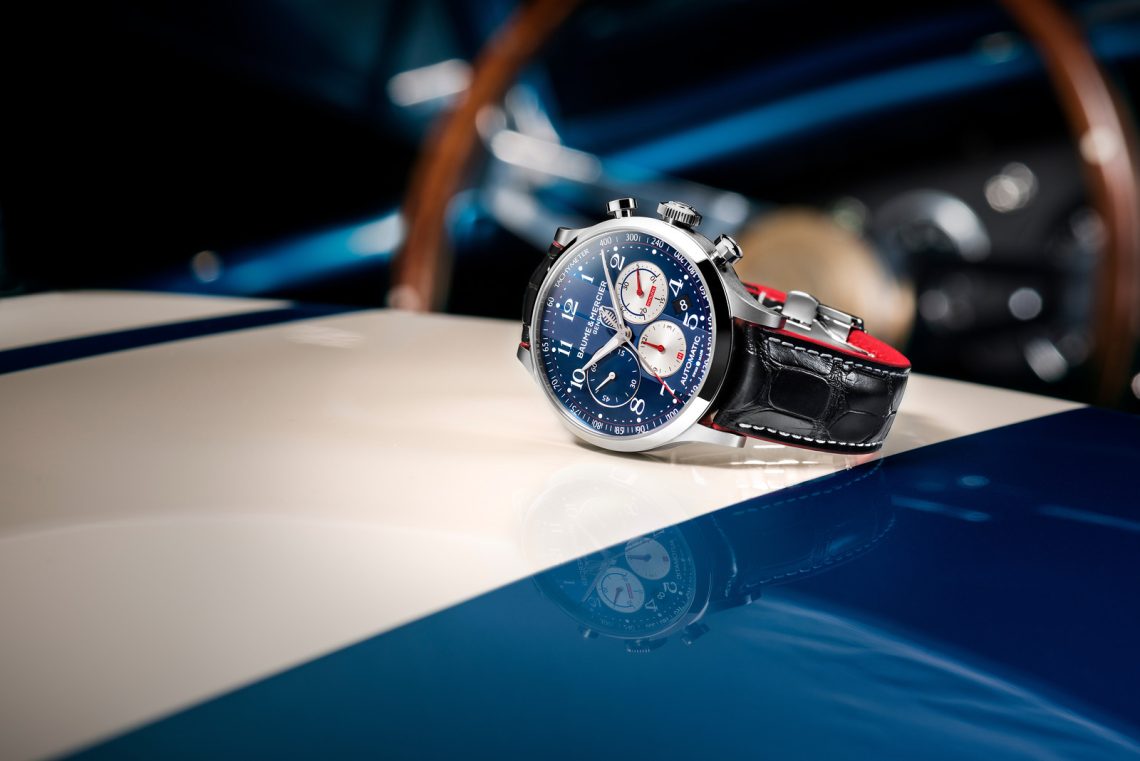 50 years ago, Carroll Shelby achieved a victory that would change the course of international racing forever: He won the 1965 FIA International Championship of GT Manufacturers. In doing so, Shelby restored American racing prestige besides marking the birth of a legend! He brought his greatest creation the Iconic Cobra to the world's attention. Baume & Mercier immortalizes Carroll's legend with limited edition Capeland timepieces that capture the spirit of his unforgettable triumph.
Inspired by the vintage 1948 mono-push-piece chronograph in the Baume & Mercier museum, the Capeland Shelby Cobra collection is distinguished by its retro accents, classic lines, chronograph and tachymeter functions, polished and satin finished case and specially crafted hands featuring the Cobra logo.
If we return to the immortal triumph of Carroll HallShelby, he is known as the most famous American racing driver of the 1950s. He set 16 U.S. and international speed records in 1954. Sports Illustrated named Shelby "Driver Of The Year" both in 1956 and 1957. The highlight of his race-driving career was at the end of the year 1959, when he drove an Aston-Martin to victory in the 24 Hours of Le Mans. The only rival he couldn't beat throughout his life was the health issue he dealt with since his childhood. Being diagnosed with angina pectoris in 1960, Shelby retired from his driving career at the end of the season. Upon retiring, he started a quest of finding a new goal he'd like to achieve outside of the cockpit and soon he had a new desire: Changing the definition of American sports cars. The complete American production Cobra as a street car and competiti- on racing car was born out of his passion.
As an exclusive tribute to Carroll Shelby legend, this special collection acclaims Cobra, which achieved a breakthrough in the world of American sports cars thanks to all of its details. The luxurious case of the chronograph represents the expanded design of Cobra's aerodynamic body. Blue numbers and transparent white stripes are inspired by the Cobra's iconic blue racing colour and all the details are designed to reflect the elegant power. Based on the most respected work of Shelby, this design is a high-level expression of performance. The Cobra logo placed atop the second hand in order to create a feeling of constant movement is at the heart of the design besides the special hour and minute hands designed in the form of the classy Cobra steering wheel.