Pera is being considered as the artistic and cultural center of Istanbul. Pera, as a place considered as the heartland of art; it has underwent countless of transformations over the years and is reborn from its ashes each time. There is no doubt that the artists, curators and galleries who work and produce in the region are the ones who can explain the leading role played by Pera in Istanbul's art scene. Bahar Türkay, Fatma Çolakoğlu, Songül Girgin, Lalin Akalan and Zeynep Ögel; shed light on the transformation of the art community in Pera and its current position.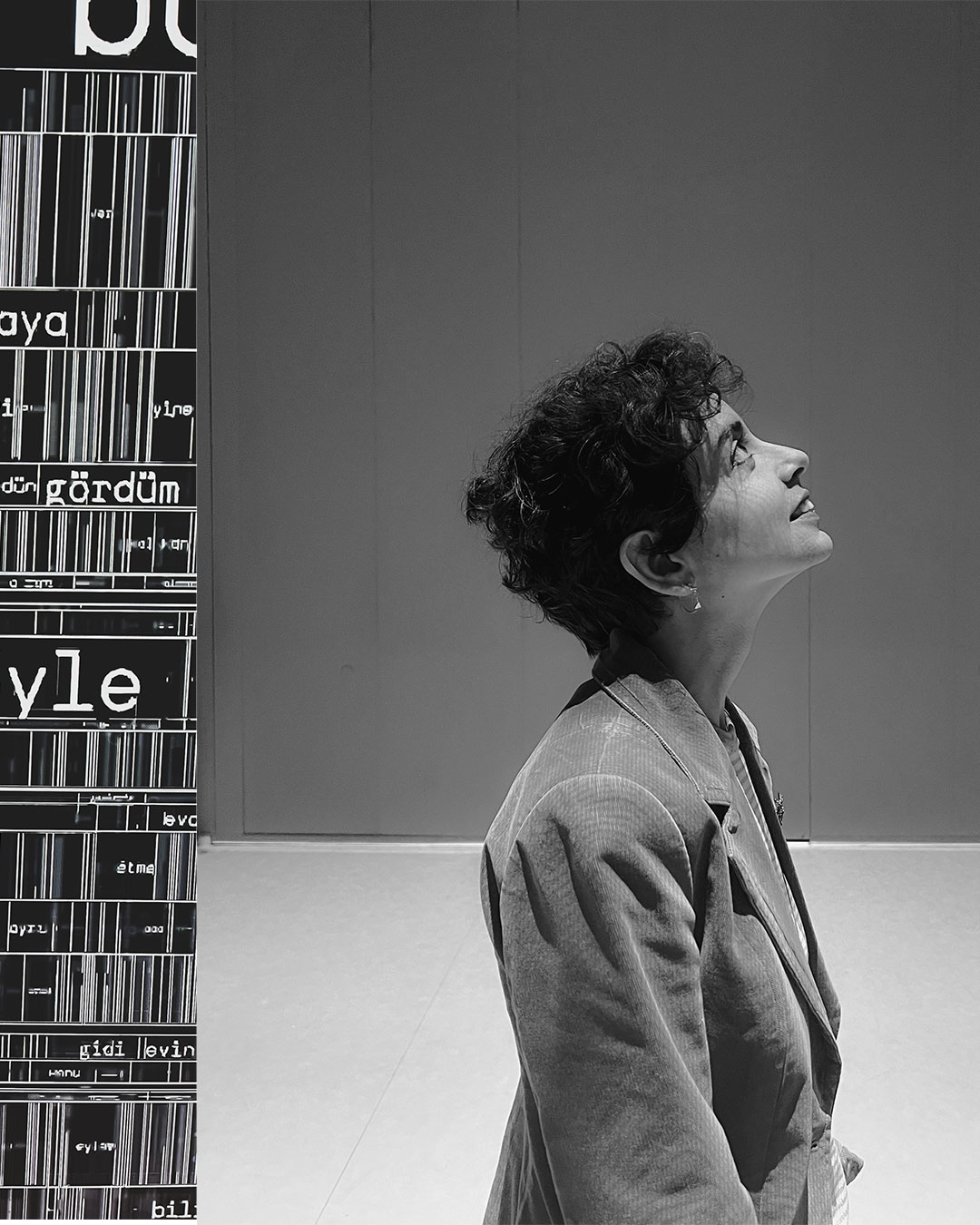 Bahar Türkay, Director of HOPE Alkazar
"Beyoglu actually does not have a single soul… Beyoglu is an ecosystem that has diversity at its core and its existence. That's why it was and is the heart of city life."
Hope Alkazar, which has become one of the most dynamic venues in Beyoğlu, turns this neighbourhood into a focal point again. When we ask her what it means to choose Beyoğlu Alkazar Cinema as the venue, Bahar Türkay says; "Alkazar is one of the most symbolic places of Beyoğlu. So, it is very meaningful to bring this place back to life and to carry it into the future" In her words, she underlines her longing for the neighborhood.She also adds that it is very special to be able to try new things and produce collectively by creating a new community together with the program partners in the Alkazar Hall, sports studio, creative workshop, cafe and common areas located in the venue.
"Beyoglu was always at the center of the flow, therefore, the movement. Istiklal Street is perhaps the most special place in Beyoğlu… but when you look at Beyoglu not only from Istiklal Street but also from a much larger scale, there are a lot of elements of individual, social, collective mobility and creativity. And when you think of sports as a driving force that actually fundamentally makes you feel good and take action, it becomes more meaningful to focus on sport within this accumulation and diversity. Her words represent the basis of Hope Alkazar, which has the motto of "social good" at its core. We need more than ever to have a dialogue, to produce together, to share.
"At the heart of the story of HOPE Alkazar, which is made possible with the support of Nike, are young people and hope. We all need hope, but young people need more… So, regardless of social, economic or individual differences, we set out to create an open space for everyone, especially young generations, to dream and turn their dreams into reality, with a very inclusive context." Hope Alkazar is actually a pioneer in its field, but what about the future? The future of platforms that are combining digital and physical depends on the proliferation of creative production. Bahar emphasizes the importance of reaching more people, young individuals and communities; and exceeding the limits of physicality to make an impact. This area, which is coded by Hope Alkazar as the stage of creativity, reproduction and movement, satisfies our longing for Beyoğlu. Every time Hope's red door opens, we will become a huge family of progress and hope.
Fatma Çolakoglu, Director of Research and Programs at SALT
Describing Beyoğlu as "the most exciting neighbourhood of Istanbul," Fatma Çolakoğlu is the Director of Research and Programs at SALT. Organizing events in different contexts such as exhibitions, research, digital projects and workshops, SALT values approaching culture from different perspectives. Fatma Çolakoğlu also emphasizes the importance of establishing an interdisciplinary dialogue to examine and try to decipher relevant and current issues at a time when digital consumption habits are evolving rapidly. For this reason, many different programs such as research-based public exhibitions, publications and web projects of SALT, as well as film screenings, performances, speeches, interviews, panels, conferences, workshops and city tours are organized. "It is possible to say that many troubles in the world are caused by the excessive discrimination between disciplines. Therefore, it becomes a basic requirement that the research and programs produced especially in the field of culture be more inclusive and embracing by including different disciplines," says Çolakoğlu. She is immersed in the cultural atmosphere of Beyoğlu today and in the past, under the influence of an institution that handles culture from different channels and acts with an inclusive mission. As well as being fed by this dynamic atmosphere, contributing to the current cultural scene is very important for the ideal of Beyoğlu, which is renewing itself in harmony with the passing years. The research carried out in the works at SALT Beyoğlu helps to bring the concept of cultural diversity under the microscope, with programs such as exhibitions, speeches and workshops.
One of the most interesting aspects of Salt is that it is located in the heart of Istiklal Street, and both Salt Beyoğlu and Salt Galata buildings are second-class historical monuments. Salt's layered productions are carried out in both structures. Located on Istiklal Street, SALT Beyoğlu was known as the Siniossoglou Apartment Building in the second half of the 19th century. Since the 1950s, the building has hosted many different events and served various different purposes.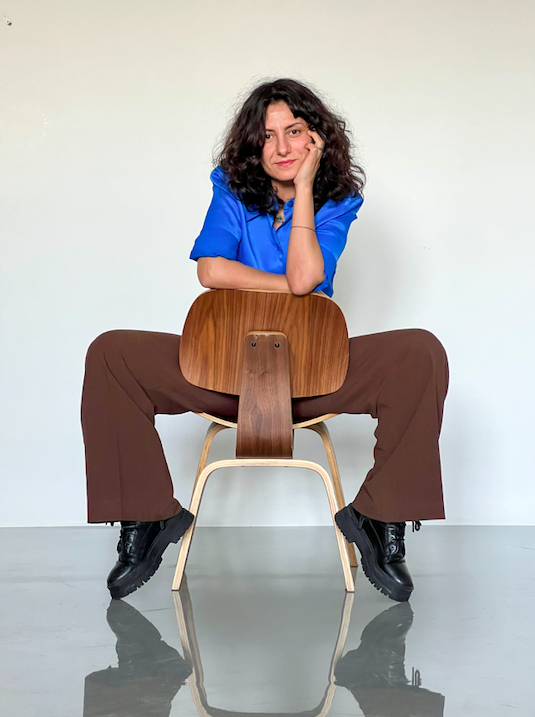 Songül Girgin, Artist, ArtOn
Songül Girgin says that when she first came to Istanbul from Izmir in her 20s, there were two things that caught her attention; "The first one is the Bosphorus and the second one is Beyoğlu. Between 2005 and 2012 Beyoğlu meant freedom and discovery for me. That's when I started to understand why it was the heart of Turkey." We come across the artist, who mostly prefers public projects and symposiums, as she usually produces her works by imagining the open space, during the preparation process of her first exhibition at ArtOn. Songül, whose sculptures focus on metal and sound-based productions, incorporates psychics from different disciplines into her work during the production process. "For kinetic work, it is important to work together with a mechatronics/audio engineer. You can imagine a statue breathing, but its mechanics may be out of your knowledge. In this context, a good collaboration can bring the art and the artist into the field of contemporary art. So, the opportunities a gallery can provide are very important at this point. The ArtOn's only condition for me was to keep imagining." For Songül, it is critical to be able to put pieces of herself into her work and to be open to losing and criticism.
"It may sound a bit cliché, but I find it valuable to be a human before an artist and to be able to make mistakes and have flaws, to share to be lonely, to be able to think and produce freely."
It is a very important mission for an artist to represent the young generation of art with her works in a neighbourhood like Beyoğlu, whose culture and art are rooted in the past. This cultural accumulation from the past to the present is valuable not only as a creative centre but also as a source of inspiration for the artists. "It is very impressive to know and see that most of the art history of Turkey takes place in Beyoğlu. When travel abroad, you understand the importance of seeing a Şadi Çalık, İlhan Koman, or Kuzgun Acar statue or a Bedri Rahmi relief in every corner." The reason why we can't get away from Beyoğlu despite all its destruction is that we can see the traces of artistic development on the streets. The opposite of the Golden Horn- Pera creates an aesthetic perception not only for sculpture, painting and architecture but also for many fields, from the Ottoman Empire to the present day. It forms the cultural memory of the city. "The fact that Istanbul has become an art centre is an important development for everyone. Art is a powerful tool, it affects many areas, beautifies and makes them magical. My future dream is to increase the areas where art and nature grow together. Where artists have more of a say in their art." These words perfectly represent the basis of her understanding of art. Her interactive oscillating sound sculptures transform the exhibition hall into a playground in a dynamic atmosphere where the audience takes an active role, makes sounds and touches the pieces.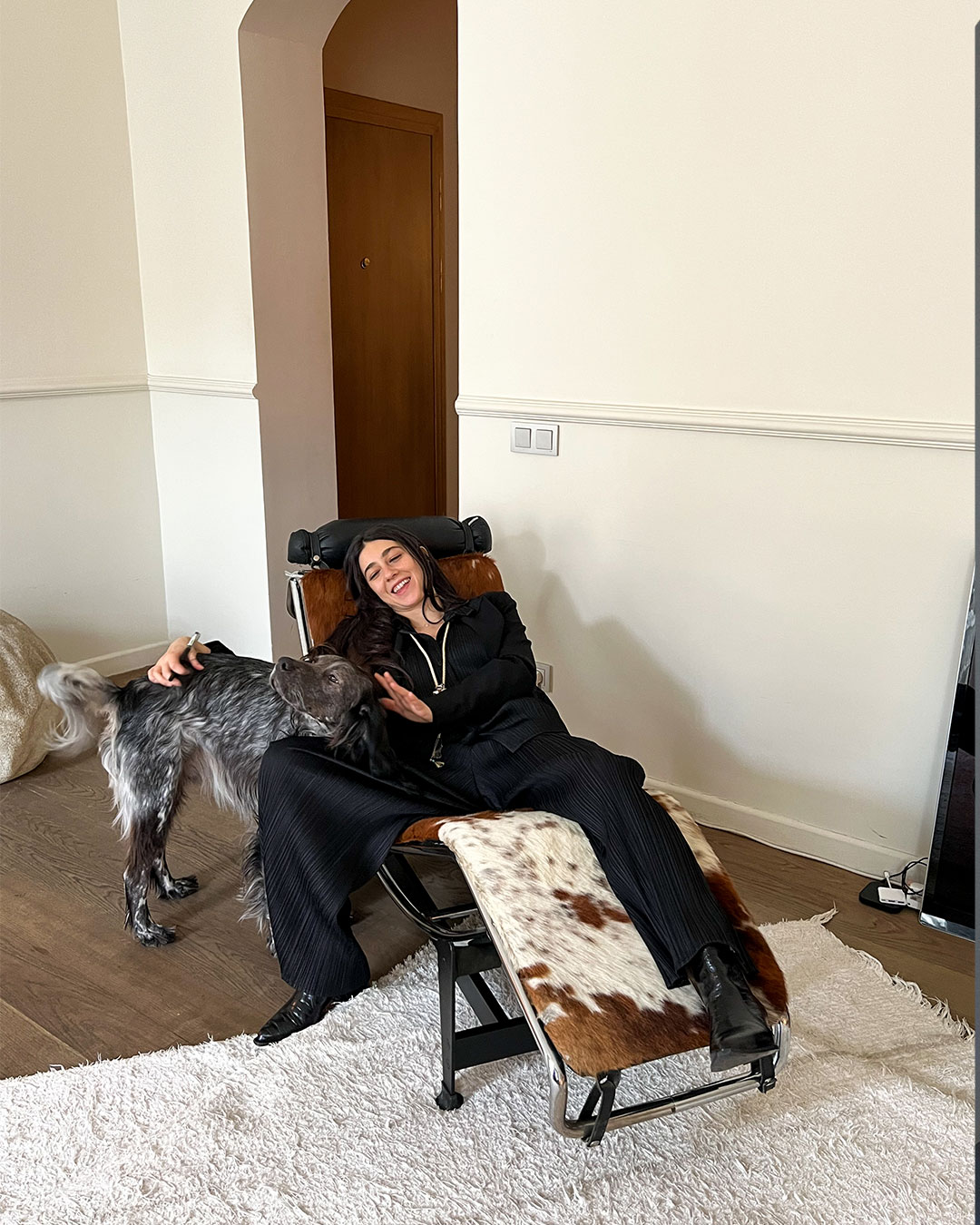 Lalin Akalan, Curator
For Lalin Akalan, her professional life has always existed side by side with an artistic activity hidden in everyday life. The fact that her family is also rooted in art and cultural heritage has inevitably led her to art and then to curation.
Even though she has always seen herself as an executive, businessperson and designer, she feels the need to take responsibility in terms of creating space for production. Opening a gallery named Parlor X, she has become the youngest art gallery owner in Turkey.
"The fact that Pera has always embraced innovations in the past also gives the creative mind the courage to try new things. I feel lucky to be close to Pera. I find it very valuable to be able to experience that atmosphere and feel the support at arm's length. For Lalin, Pera and Beyoğlu are both an inspiration and a niche space where creative minds can interact with their community. Lalin defines Pera as one of the most important regions of Istanbul with its historical background, socio-cultural diversity and its potential of making room for art and artists. When we ask about the importance of Beyoğlu in her own life, she talks about the feeling of the region and the fact that it is full of stories in itself. She describes this feeling as; "Stories gives birth to other stories and you find yourself in different universes as if you were living between times. While interacting with the newest and most modern, you learn about the existence of a 200-year-old craft."
"I think Pera has a soul of its own- a living being- and nothing can make this place boring unless it allows it to happen. I want to believe that I will always appreciate the depth of it as a haven of inspiration."
Lalin, who is involved in a highly innovative and technology-blended field of art with Xtopia, of which she is the founder, talks about how art is a cumulative experience when it comes to capturing current technologies and productions without losing past values. While she does not believe that technology or new trends can harm the past, she also thinks that people are being overprotective about it.
"We need art and technological infrastructures to build a bridge between the past and the future or even to translate past information into the future."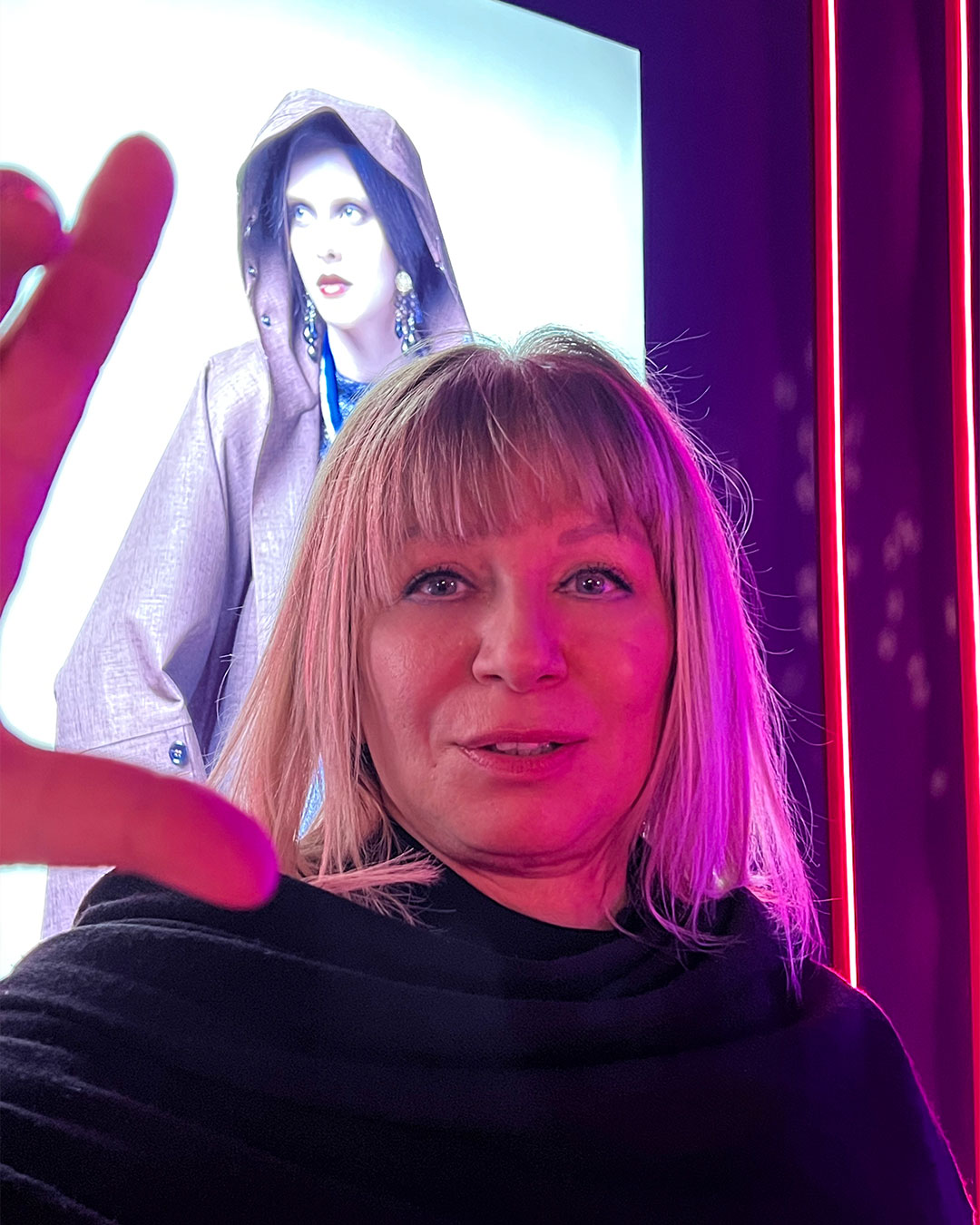 Zeynep Ögel, Coordinator Exhibitions and Publications at Pera Museum
Pera and Beyoğlu have been the centre of Istanbul's culture, art and entertainment scene since the 19th century. The Pera Museum has been positioned as the cultural and artistic centre of the Pera region for many years. In addition to the exhibitions, which are the main field of activity; Pera Museum, which is positioned as an interaction space with film screenings, concerts, talks and learning programs, is an important source of inspiration for other galleries and museums as it attracts the culture and art audience to the region. The Coordinator Exhibitions and Publications of the Museum, Zeynep Ögel; "Although there has been a recession due to economic and social conditions from time to time, Pera's mission has never changed. The foreign settlement that started with the establishment of embassies in the region, the Levantines, the local Christian minority and then being the frequent destination of western travellers shaped the entertainment culture as well as the social fabric over time, and the increasing number of art, dining and shopping venues and the diversification of activities made the region attractive in every period." She sums up the cultural exchange in the history of Pera and emphasizes that the main purpose of the institution is to bring everyone together with art.
As we all know, the museum has a building that is quite characteristic and conveys the spirit of the region. When we ask her to tell us a little about the history of the building and its current state, she begins to tell us about the history of the building dating back to 1893; "The building that was built by the architect Achille Manousoss with a general architectural style of the era was first opened as the Bristol Hotel. At that time, when interest in the East, especially Istanbul, was growing, Tepebaşı was a famous hotel district, especially the famous Pera Palace. The Bristol Hotel was also opened until the 1980s. Suna and İnan Kıraç Foundation purchased the building to turn it into a museum, and within the framework of the project prepared by the restorer architect Sinan Genim between 2003 and 2005, the façade is preserved and reconstructed as a contemporary and well-equipped museum. As we have seen in the examples in the West, the fact that a museum is in a historical structure also adds a completely different dimension to the vision of the museum, creating an impressive atmosphere." Of course, this is a situation that affects visitors; They enter a 19th-century building and encounter a very contemporary layout. At the same time, they are able to spend time in a very nostalgic cafe. This situation, in addition to the events, creates a separate attraction.
As a cultural institution, it is also very important to be able to establish a correct relationship with the visitor. First of all, their mission is to try to attract people of every socio-economic class to the museum. For this reason, they try to organize their events in a way that appeals to a wide range of people from all walks of life. Reaching out to children and young people, in particular, is an issue that they care about very much. They aim to create a permanent museum awareness among future museum visitors and art audiences.
Keeping up with the changing world in the project and exhibitions is also in line with Beyoğlu's ability to keep up with the present times. Ögel states that as Pera Museum, they do not have any concerns about organizing their projects according to current art trends, and adds that their projects are the product of a collective work process, working with institutions, curators and artists whom they think is fitting after a long research process.