Defying the Ocean's Moods
Marguerite Bartherotte's romanticism is contagious. G-Kero is a result of her imagination; a small design label, created with her brother, Phillip, where upon she paints the memories of her childhood from the South of France and the experiences from Paris, in love and life, on clothing pieces meant to explore the wild coastal shores, and the cities, or essentially, the places where our imaginations run wild.
The romantic beginnings…
I grew up in Cap Ferret, right on the beach, in a very quiet and wild place, running naked on a stark and sandy beach with the ships trailing after us. We were seven sisters and brothers. It was a very spirited and enlivening environment at home. My parents still live there in this wooden house, defying the ocean's moods. The land is beautiful and menacing. This is romanticism. At the end of each summer holiday, everyone would disappear, all my friends would leave, and so I felt like drawing to keep the memories alive. As a child I really was a dreamer and only sounds and visions could catch my attention. I started to write stories and illustrate at the age of seven. I invented stories about young boys of my age whilst listening to Serge Gainsbourg and his beautiful muses…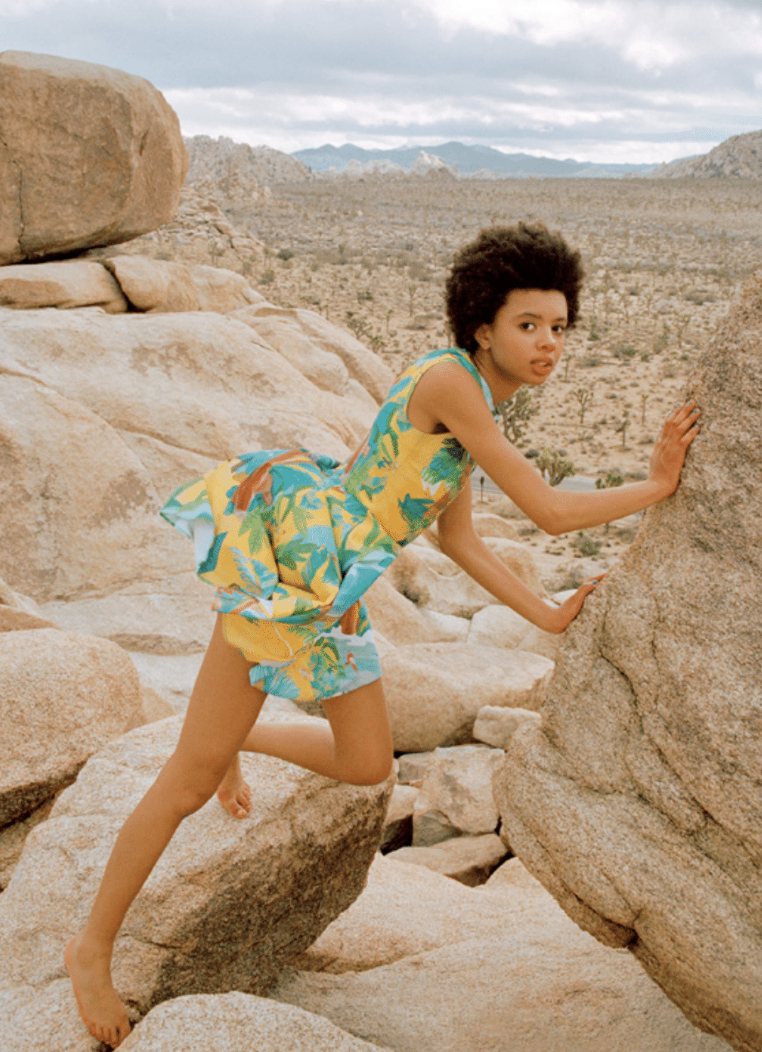 After romanticism; the city of Paris…
One cannot escape their childhood wherever they go. I like Paris because it's something else; it's noisy, one can meet different people everyday, and have the most interesting parties. Paris is a very romantic city but each time I walk barefoot people stop me! I've met four of my many loves here, in this city, and I've walked all around the streets. I've met people who are very different from me, but very similar at the same time in their souls. I've made friendships with musicians and writers, but music has always been a start in my inspiration to draw, it is important for me! I adore spring in Paris when beautiful girls wear shirts and skirts and look happy, whilst boys are sitting and watching.
The beginnings of imagination…
If I believe in the stars, then I was bound to have an artis- tic ride! I'm lucky because my parents encouraged me as a child. My imagination comes from my experiences. I started to work at the early age of seven. I had wanted to draw as the illustrators had in the books I read. Each time I discovered a character; Mowglie, Tintin, Lucky Luke, little Nemo, I taught myself to imitate these drawings. I was passionate! I stopped when I realised that my drawings had become true charac- ters with their own personality and style.
"At the end of each summer holiday, everyone would disappear, all my friends would leave, and so I felt like drawing to keep the memories alive."
And then, as a painter…
I started painting at seventeen and I was painting very fast, one painting a day for three years during the summers. My parents' friends would buy my paintings and I was quite ambitious. After my baccalaureate, I spent one year in Rome with my aunt Diane to pursue this vocation and it helped because Diane herself was a fantastic painter. She opened my mind with the idea of colours that match together. Two years later I entered a school in Brussels, Belgium (La Cambre) to study as a cartoonist. However, after two years in the school, I was bored to work behind a computer all day long. At this time, my brother Philippe, who was in Brazil, came to me and asked for a drawing for a t-shirt. When I saw the design I got the idea to paint directly on t-shirts. That's how the G.ke- ro project started! But I will always be a painter and I will have an exhibition next year. Through experiences and time, my dream of being a painter has changed: it is more open than that, I want to create my own universe which involves everything: people, paintings, music: Action!

The moments in between imagination…
I'm listening to Caetano Veloso's album "Transa." All songs start in silence and darkness and explode with joy and colours. It is very sensual and inspiring. I listen to this while I paint.
I am reading "Novevento: Pianiste" by Alessandro Baricco. It is the story of a pianist of my age who sails the Atlantic, playing his piano with no other goal than to play his music.
I recently watched "When We Were Kings," a documentary about Mohammed Ali and his famous fight in Kinshasa against the heavyweight world champion George Foreman. This takes place in Zaire, under Mobutu's regime, and was organised by Don King, together with the James Brown show. It shows a world that was on the verge of collapsing and disappearing. I like this 70's African American culture and Mohammed Ali is a perfect hero.