He confronts his emotions with a direct approach, changing between reality and dreams. He is entertaining but perfectly happy being alone. More importantly he knows women very well and it is inevitable that we all need a Özgür Masur.
Özgür Masur has a different kind of energy. His demeanor is peaceful and relaxed, but when by himself his creativity is highlighted by an eccentricity that justly complements his designs, and yet he is beholden to his own imagination. We are about to start our interview and my eyes are fixated on a beautiful white couture gown and so I ask Özgür "How long does it take to create such a piece?" He says, "more or less two weeks I guess from its design to when it's hand-sewn along with the embroidery."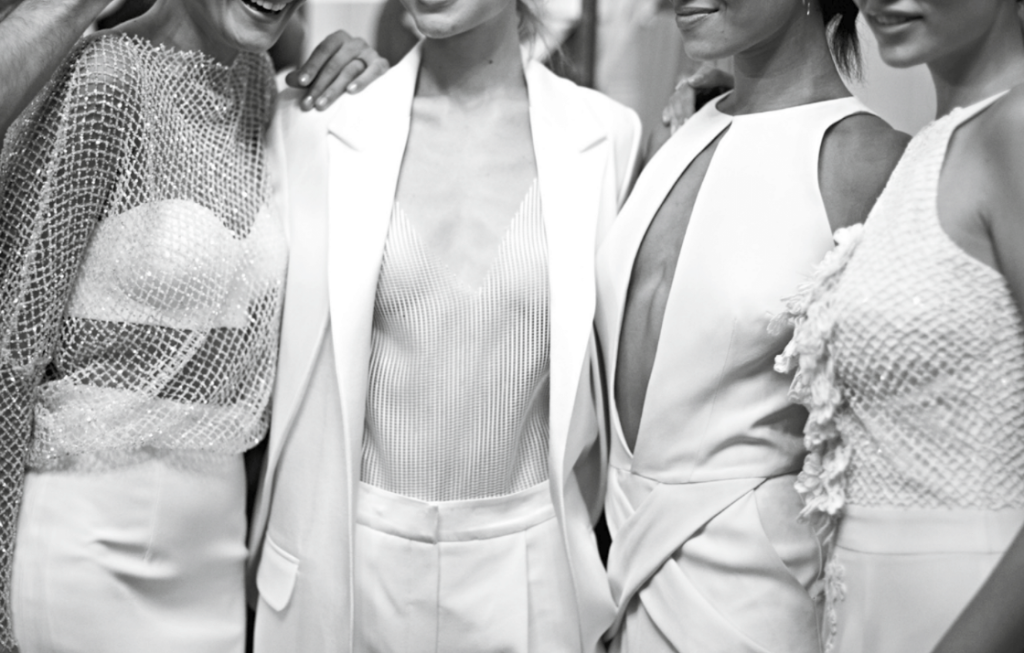 Özgür Masur is a brand where a woman can find almost anything she wants, ranging from jackets to coats, from pants to shirts, but its strength still comes from its dresses due also to Özgür's frank but constructive communication that he shares with his customers. Women such as Beren Saat, Bergüzar Korel, Selin Demiratar are drawn to this frankness and his ability to create beautiful designs based on this; "If I cannot tell the truth to them just because they are famous, what's the point of my endeavour then? I need people whom I can communicate with in the first place. I cannot help any woman who comes to me without knowing what she is dreaming about. I'm not a fortune-teller. Besides, in my opinion, the right choices are always more beautiful than the beautiful ones. You just need to hunt after the right choice for that particular person.
One might ask where Özgür draws his inspiration from? And one will soon discover that his inspiration is not something he takes for granted but rather it is something he searches for and works towards; "I think the fancy sentences about design, containing inspiration in them, drift away from the nature of the job. It's just about getting closer to 'what is ready'. I'm a mathematical thinker despite all my sentimentality. It makes more sense to me to say 'starting point' instead of inspiration. You take interest in a subject, examine it thoroughly, collect stuff about it in time and therefore the end product cannot be called inspiration."
Özgür goes on to say, "I graduated from Marmara University Faculty of Fine Arts, department of Textile Design. I guess I became more realistic due to my education based on German Bauhaus art movement. I set any thoughts of talent apart from the fact that designing can be learned and managed. Anyone can design. Only the uneducated ones will spend time waiting for inspiration to arrive. The methods can lead you to the result. It's the same for methods such as sculpture and ceramics. You need to pursue something and learn it thoroughly. I feel close to the graduates of Antwerp Academy in terms of their cool, distanced and scientific attitudes. Fashion design sure has a sensual side but there is also a ritual, theory and system to the working process. Take the universe; take an ordinary stone for instance. Even its staying on the ground is an issue of balance."
We cannot help but think that Özgür is aware of his strong character and this transcends to his designs; "I'm always chasing after a woman. This woman I'd like to create and dress up changes every season. But as soon as I find her, the whole collection constitutes a reply to the following question: 'what does she like, what does she wear?' She might be an intellectual, a bank employee or a prostitute. No matter how they look on the outside, they have common points indeed: Their dark sides, dramatic aspects, habit of thinking, power. They are alone. Every person is alone. Even if my design is romantic with fly-away chiffon, cups and details; I somehow incorporate the emotion into my work benefiting from the music to be played at the fashion show and I assume that particular woman would like it."
One could almost say that Özgür has a great interest of looking into the darkness? What's so interesting about it? "Because there are many dark sides within me, too. I guess there are. There should be. That's life itself! I'm an obsessive man." Does he reap the benefit of it in his career? "That's what I exactly do. I'd nurture the darkness and be stuck if I didn't turn that obsessive side of me into something positive. Instead, I always convert it into productivity." According to Özgür, popular self-help books, seminars or long spiritual journeys with life coaches are no good at all. What really matters is changing your behavior. "I want to keep my feet on the ground. I always think about the worst, prepare myself for the most negative scenario possible and then I behave in a completely positive manner. Meanwhile, I never reflect it to anyone. It's always the same for my choice of friends, relationships, and career. Let's say I'm thinking about my collection and there is a texture of fabric I design in my mind, which I'd like to use. I keep asking myself 'What if I can't find it? Can I produce it myself or have it weaved?' I'm prepared for everything. Within myself, life is hard but I think I always make the others feel comfortable."
These days he is in the process of creating his latest collection. He even says that he gave birth to it two days ago. "I was wandering around thinking about this thing in my mind that I became obsessed with but somehow I couldn't find what it was. I didn't know how to manage technically the forms, volumes and shapes I wanted to apply, rather than the woman's profile. All of a sudden, I solved it during sketching and the whole collection appeared before my eyes. I just need to make a clean copy of them now."
Was Özgür alone, in his office or at home? I wonder. "I was home. I love my solitude, especially while working. I never go out at night or drink because I really don't like it anymore. I had such a crazy life between 2004-2006 that I had had enough of it. Now my friends visit me at my place because I want my own space to breathe and to have fun. I have a phobia of crowds; I cannot stay at chaotic places. I'm so happy at home with my dog and talking to and communicating with my plants all the time. This way I create and create without stopping." Özgür is rather reclusive and despite being warm-blooded and fun, he is hesitant to let too many people into his world. "I have a group of friends, I usually do not hang out with anyone except them. There is an Özgür known by 7-8 people but if you ask about the closest people to me, I'd say there are just 2 or 3."
Özgür Masur as a self-titled brand is only seven years old. His life changed when he first participated in Galata Fashion Week in 2008. Of course he had some awards and recognitions before then but he attracted such great attention at Galata that he made up his mind. He then spent all his savings on founding his own brand and since he has continually invested within his brand. It all happened step by step. He has a rich collection of fashion and art books he's been collecting in his home library for years. So much so that now he keeps some of them at his mom's since he does not have enough space at home. He collects each issue of Burda magazine since the 1920s. He says "Such resources in a country with no period of Renaissance, where fashion culture has just started to flourish, are of great importance." "I'm a big fan of 1920s and 1970s. I am fascinated by fluidity and drape of the designs, abundant use of drapery I like a lot, powerful and free looks of women. Do you know that I consider the women of that period more independent in comparison to today's women? Because they read more, they listened to better music. However, today's women are not focused regarding their areas of interest, they are rather confused, the world became a stricter place. Or do I feel that way for I was born within this part of the world?"
He cares a lot about getting together with the designers of whose works he believes in and supporting each other. It's not possible to cultivate a fashion culture otherwise. As a recent example to this, he talks enthusiastically about the multibrand boutique in Nişantaşı named Gizia Gate, which will offer products by 30 Turkish designers. He even made a new team to create a special collection for this boutique and provided almost 60 different couture pieces. He says, "This is our answer to Colette of Paris."
If I were to tell you one last thing about Özgür it is this; He hides away four or five pieces from each collection since the day he started this journey. He would like to one-day showcase a retrospective of his own designs. "One day I'd love to have a beautiful book of all my designs along with retrospective curated show of my pieces," he says. We cannot think of a single reason for this not to happen.